When researching best practices in copywriting, you can find a plethora of articles about headlines, email subject lines, SEO content and more. An equally important (and perhaps more important) element to research and refine is the call to action (CTA). According to Unbounce, more than 90% of people who read the headline also read the CTA.
Why is the CTA so important? This is the desired action you want your target audience to take as a result of your communication. If your goal is to increase brand awareness, the CTA could be a simple "Learn More." Want to sell products or services? Be direct with a "BUY IT" button.
It does not matter whether your focus is B2C, B2B or what channel/tactic you use — email, direct mail, website, banner ad — a strong CTA is crucial. And it does not matter what industry you're in — hi-tech, higher ed, pharma, tourism, retail — you still need a compelling CTA.
What's not a compelling CTA? "Click here," for starters. You've got to give them a reason to "click here." From an SEO standpoint for web content, "click here" does nothing. And from a user experience (UX) perspective, it's not exactly user friendly. Change it to "Learn more about our EMBA programs" and you're on the right track. Adding a sense of urgency ("SHOP NOW") can boost the click-through rate (CTR). All caps ("FIND OUT HOW") vs. lowercase ("Find Out How") can also increase response.
Design is another key component of a successful CTA. A button calls more attention to the CTA than a simple text link. Color, shape, icons (such as an arrow) and positioning of a CTA can impact its CTR. And don't forget mobile. Buttons should be at least 44 pixels square to avoid errant clicks by large thumbs.
Here are several examples of click-worthy CTAs: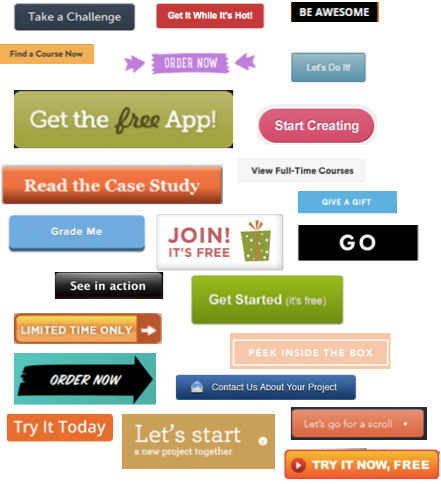 When it comes to CTAs, there definitely can be too much of a good thing. On a landing page, where your goal should be to generate leads, you should have only one CTA. On the thank-you page, where you want to drive visitors back to your site, it's OK to go hog-wild with links.
How do you know if your CTA is performing? Make sure you include a tracking code on the URL you're linking to. Then check your analytics for click-throughs.
When in doubt, test. You could say that's my mantra. But be sure to test only one element at a time to avoid skewing your results. After you test, apply those learnings to your next project.
By Darcy Grabenstein, senior copywriter at Annodyne